This is brazen.
Someone is openly selling aggregated databases containing PII (personally identifiable information) of Singaporeans – names, email, mobile, address, company, job title, etc. and even offering a CNY promotion of "only" SGD 688 for a total of 8 databases.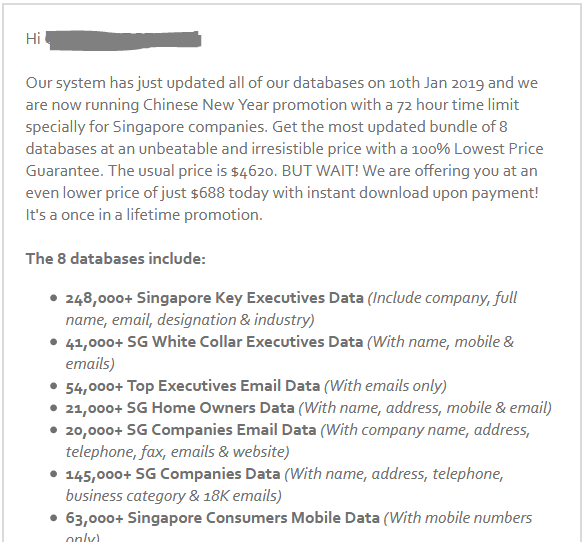 Some of the sample databases – which I won't embed here – are not properly blurred out – you can even make out the name, email, mobile and address of the individual.
The FAQ says that:
Q: Is It Legal To Purchase Databases?

Yes. It is legal to purchase database for marketing or advertising purposes. All information in our databases are publicly available data which can be found online or offline.
That is blatantly false.
The organization behind this website claims to be SPADB, which doesn't appear to be a legitimate company. According to archive.org, they seem to have been operating since 2015. It has another similar looking website which sells databases of registered property agents.
The server hosting the website seems to be based in Singapore, so there's a possibility that PDPC or SingCert can do something about it.

Singapore's most comprehensive business & consumer databases with over 1 million contact list. Buy 1 Get 6 Free. 7 databases For just one low price. 100% Lowest Price Guaranteed!
Source: CNY Promotion | Singapore Business & Consumer Email Databases